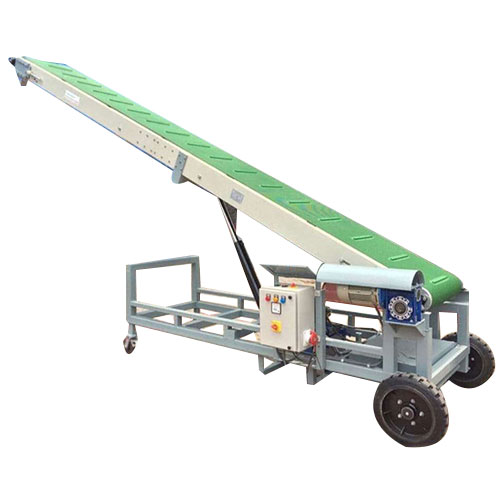 Send Enquiry
Belt Conveyors are introduced for the ceaseless passing on of a wide scope of various mass materials. Especially in circumstances where troublesome territory and significant distances are included, these offer extensive expense and innovative benefits when contrasted with the organization of wheeled vehicles.
Our company offers a wide range of high-quality conveyor belts for material handling systems and also offers its customers special requirements. Our products adhere to the highest quality by high industry standards.
Conveyor belts make it easy to transport both side objects such as large, small and heavy loads. Different kinds of conveyor belts are utilized for light, medium and weighty applications.
Our belt conveying System transports any sort of mass material – regardless of whether granular or knotty, strong or noncohesive – in practically every mechanical area. This passing on hardware, field-tried and consistently refined over numerous years, dependably interfaces crude material stores with handling plants and production industries.
Various Types of Conveyor Belts
There are two essential sorts of belt Conveyors; general material exchanging and mass material Handling. Depending on what your conveyor belt system will do will pick what kind of belt you ought to pass on your product.
How Do Conveyor Belts Work?
A Conveyor works by utilizing two mechanized pulleys that circle over a significant length of thick, solid material. At the point when engines in the pulleys work at a similar speed and twist a similar way, the belt moves between the two.
If objects are especially substantial or massive — or if the transport line is conveying them for a significant distance or length — rollers might be put on the sides of the Conveyor Belt for help.
Belt Conveyor Applications
i) Scrap Removable
Our forte belt cleaners incorporate Belt Conveyor washing frameworks, belt brush cleaners, food-grade belt scrubbers, water cleaners and high-temperature cleaners, all designed for testing conditions and strange materials.
ii) Parts Transfer
Since the parts are so small, the ability to move them from one conveyor to the next can be a problem. If a part cannot be moved from the end of the conveyor, an alternative method is to transfer it from the side to an adjacent parallel conveyor. Since the section itself is very light, it does not weigh to flatten the conveyor belt so that it only follows the surface of the belt surface.
iii) Parts Handling
Stuti Industries has a Conveyor answer for moving and lifting a wide range of parts including little sensitive parts, massive abnormal parts, and weighty metal parts. Commonplace ventures incorporate infusion forming, treats making, clasp producing, stepping, and passing on projects.
iv) Package Handling
We have complete devotion to offering cutting-edge Packing Belt Conveyor. Our offered dependable quality transports are used broadly for light to medium obligation passing on applications. These Packing Belt transports are created from uniquely designed plastic polymers, which upgrade the assistance life and diminishing the operational expense. Further, we are occupied with building up these transports in applications with explicit widths at a market-driving cost.
v) General Purpose
Belt Conveyors can be utilized to export items in an orderly fashion or through shifts in rising or course. For passing on Bulk Materials like Grains, Ore, Coal, Sand and so forth, over delicate inclines or fragile reductions and flows, a troughed belt conveyor is utilized.
vi) Loading/Unloading
We maintain our core business of loading and unloading conveyor frames. The belt conveyor is one of the Stuti Industry's many product ranges. We consciously follow market models and use state-of-the-art innovation in creation and assembly to deliver products for loading and unloading.
The Reason Behind Using Conveyor Belt
Conveyor systems can be used for a variety of reasons, but are primarily used to save labor and increase productivity as part of the production or transportation process. This, of course, means that more products can be made or sorted and shipped to customers, faster and more efficiently.
Because of the reduced manpower required to complete tasks, conveyor systems typically reduce the space required to move objects, allowing processes to be carried out in a smaller part of the facility and freeing up workspace.
Do You Require a Conveyor Belt?
If you are unsure whether conveyor belts are right for your company and how they can optimize your business for higher efficiency, contact Stuti Industries. An experienced member of our sales team will listen to what you need and provide you with tailor-made design recommendations.