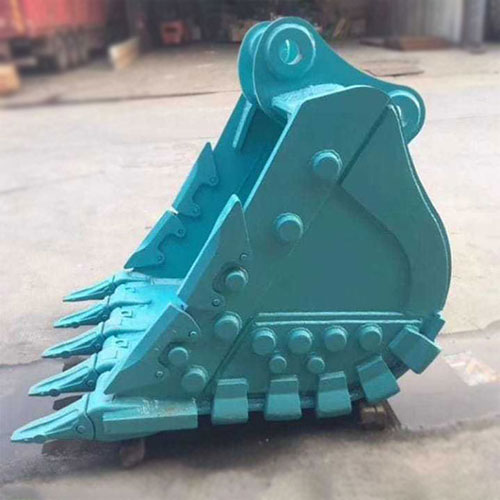 Send Enquiry
A bucket excavator is a large machine for heavy equipment used in open-pit mining. The principal purpose of it is to function as a continuous digging machine in large open-pit mining operations, moving thousands of tonnes of cargo per day.
Each bucket is custom-engineered to match your particular application, from elevated lightweight buckets to heavily loaded reinforced buckets. We fit buckets to existing site equipment, resulting in shorter cycle times and greater machine performance. Bucket Excavators are used wherever large amounts of open land and soil need to be extracted and transported efficiently and cheaply to achieve deep Raw material levels.
Stuti Industries excavator buckets are designed and manufactured for most OEM machines and range in size from 100 to 900 tonnes and up to 50 m3. Our designs meet, among other things, OEM requirements for tip radius, pin center, breakthrough performance and maximum suspension load. An excavator bucket design is available, as well as a special two-piece design with a rugged, disposable upper and non-permanent lower structure.
Characteristics of Bucket Excavator:
Bucket with a custom-designed shape that lessens the workload
Linear kits are available in a wide variety of fabrics and designs.
We offer a range of personalized soil tools to help get the raw material deep.
Automated Systems
The application of various sensors and electrical components such as GPS, data acquisition systems and online monitoring functions are required for excavator bucket automation, these systems aim to relieve operators of some of their responsibilities to increase mining speeds. Project managers and operators may now use the Internet to monitor critical information about Excavator buckets and other mining machinery. The sensors can control how much material is collected on the conveyor belt and the automation system can improve the conveyor belt speed to produce a constant volume of material.
Types Of Excavator Bucket
Excavators are capable of a wide range of tasks, including trenching, pipe laying, landscaping, and snow removal. Within such applications, an excavator may use a variety of bucket types to handle different materials. Although there are many specialty buckets available, the following are the most popular:
Rock Bucket
A rock excavator bucket will be needed if a digging bucket is not suitable for more hardened surfaces. This particular bucket has a stronger force than its equivalent. Many harsh areas include rocks that are difficult to approach. A rock bucket takes care of the problem completely.
Excavator Bucket for Digging
The digging bucket is often called all-purpose, which means it can be used in various situations. These buckets are also available in a variety of sizes to suit the needs of a surface in the issue. As long as protection is kept in mind, a professional operator would be able to dig efficiently.
Heavy Duty Buckets
Heavy Duty buckets, with widths varying from 450 to 2150 mm, are the most realistic option for circumstances where the application requirements can change (18-85 in.). They are the most common excavator bucket option where tip lifespan ranges from 400 to 800 hours due to their flexibility across types of applications.
Heavy-duty buckets perform well in a variety of impact and corrosion environments, such as mixed soil, mud, and rock.
Backhoe
Backhoes are useful for a wide range of activities and work. Backhoes are widely used in renovation, demolition, and transportation. They can also be used for construction work, excavation and road reconstruction. When you use our Stuti Industry backhoe, the possibilities are infinite! Its solid and durable construction helps you to finish the job quickly.
Applications of Bucket Excavator
Mining of lignite
Excavator Buckets are most commonly used during lignite mining, and they're used to remove soft rock overburden without blasting. They are useful in this capacity because of their ability to supply large quantities of materials to processors consistently, which is critical given the constant demand for lignite. Due to the high demand for lignite, lignite mining has been one of the most rapidly developing areas for Excavator Bucket.
Handling of Materials
Excavator Buckets technology is often used when working with bulk solids. Bucket keepers collect materials that have been brought from the dispenser to be transported to the processing facility. Bucket wheels are often used by stacker/reclaimers, which combine tasks to reduce the number of machines available.
Heap Leaching
Excavator Buckets are used in heap leaching applications as an extension to their other applications. Heap leaching involves stacking crushed ore and passing a solvent through it to remove useful materials. The stacking and taking back technology is evident in the building and retrieval of the heaps.
Why Stuti Industries?
Partner with the local leaders in tractor parts and repairs once you're ready to buy excavator buckets or need professional guidance for your worksite and machine. We have a large range of excavator buckets at Stuti Industries, whether you're looking for fresh or even used buckets. Get the parts you need quickly from industry experts with years of experience.