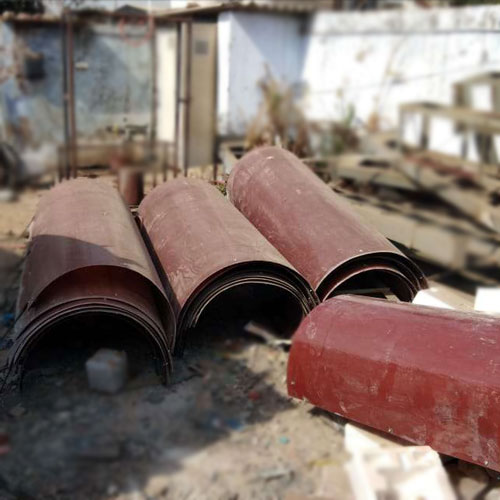 Send Enquiry
Hood-type Conveyors are utilized so as the material is saved from the air and water. It assists with keeping away from spillage of material and residue. It is a successful answer for individuals who would prefer not to put resources into a box type transport as it includes a lot of expenses. By introducing a hood-type conveyor we can guarantee that the spillage of material is limited.
Conveyor Hoods are important because they hold the transported material on the belt just after stacking point while somehow protecting it from rain and wind. Conveyor hoods are a strong development of aluminum or excited steel, which productively shield the material being stolen from being blown away by the transport.
The workplace is improved while security additionally increments. The solid plan is likewise entirely appropriate for cold environments where snow loads should be thought of. On Inclined Belt Conveyors which are not covered, a downpour can mess major up because the material moves washed away. This issue is effectively disposed of with transport hoods. The sides can be opened effectively, to allow investigation or roller substitution, improving on upkeep.
Why Conveyor Hoods?
Belt Conveyor Hoods are a powerful development of aluminum or excited steel, which effectively shields the material being carted from being blown away by the conveyor.
The hoods are utilized to secure the passed-on materials and to stay away from the scattering of powders. The need to shield belt conveyors may emerge from the downpour, from the unstable qualities of the passed on material, or from the kind of works plant.
Features of Conveyor Hood
Easy and protected of activity for acknowledging assessment, upkeep, and fix work at Conveying systems. Self-supporting hood-section system.
Support bands and hoods are available in aluminum and stainless steel construction, as well as are G90 galvanized material.
Opening, hooking, and shutting on the two sides through one individual with no apparatus.
No free parts like fixing lashes, nuts, or screwed associations when opening, hooking, or shutting.
Additional connection parts are excessive at the belt transport structure. Standard Hoods have a well-formed design that allows for greater positioning on the structure, simple installation, and secure access to both sides of the belt.
Cost-viable unique arrangements are conceivable. The hoods are held in place by open position brackets while trying to access the conveyor.
Without problem association with intersection plates or confronting.3/4 hoods help in easy belt visibility by one side. A secure fit between the hood's lower end and the supporting band ensures maximum safety.
Applications of Conveyor Hood
Conveyor Hoods are utilized to ensure shipped material, transport belting, idlers, and design.
They viably improve faculty wellbeing, lessen the loss of material to wind furthermore, prevent grime and downpour from harming the idlers and belt.
At Continental Conveyor, we invest heavily in the assembling of our transport covers. We center around the whole Conveyor hood arrangement by offering:
Particular mounting sections for unique sorts of the transport structure stretched outsides to encase the return belt run, and non-standard help band focuses and hood profiles to oblige flat and vertical bends.
The symmetrical nature facilitates positioning, installation, and access.
With hinges and self-tapping screws, the conveyor Hood can be opened.
The conveyor Hood's full-style hinges are covered by a rust-free coating.
During transportation, a conveyor Hood is used to shield the conveyed goods, belting, idlers, and structure against rain, air, and dirt, and to prevent powder dispersion. Steel board, hook, hinge, and rivets are among the components. Plated steel, brass, stainless steel, fiberglass, and colored steel can all be used to make the steel plate.
Hood-style belt conveyors are used to keep the material dry and protected from the elements. It assists in preventing material spillage and dust. It is an excellent option for people who do not want to invest in a Box style conveyor due to the high cost. By installing a hood-type belt conveyor, they can ensure that material spillage is reduced.
Why Stuti Industries?
We provide a high-quality selection of Hood Covers to our valued customers, which are available in a variety of personalized choices. These hood covers are made of high-quality materials and adhere to industry standards. These Hood Covers prolong the life of the conveyors, saving our customers time and money. It is a necessary cover that can be customized to meet the needs of our valued customers. Our clients can obtain the provided product at a reasonable price.